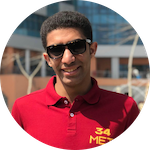 I am Abdelrahman Osama, Perception Engineer from Cairo, Egypt. I work as a Perception Engineer for Autonomous Driving at Brightskies Technologies.

Mobile Development
I can develop iOS and Android apps using Flutter and Node.js as backend along with Firebase
Computer Vision
I can develop any tool related to realtime automatic detection, classification or tracking.
2020 - 2021
Master's Degree
Master's Degree in Computer Vision for Autonomous Driving from the German University in Cairo
2019 - 2014
Bachelor's Degree
Bachelor's Degree in Computer Science and Engineering from the German University in Cairo
2021 - Present
Perception Engineer - Brightskies Technologies
Working on developing detection, classification tools for 3D, 2D and fused data for Autonomous Driving.
2020 - 2021
Computer Vision Engineer - Namaa Engineering
Working on developing data annotation and processing apps. Developing several computer vision algorithms for accurate distance and location measurements from camera and LiDAR data. Developing deep learning models to detect road objects.
2019 - Present
Teaching Assistant - German University in Cairo
Working as a teaching assistant at the German University in Cairo as a part of my master fellowship. I teach Human Computer Interaction and Computer and Network Security.
2019 - 2020
Mentor, Remote - Udacity Inc
Working as a Mentor for students taking Self-Driving Car Engineer Nanodegree at Udacity.
Recommended
Premium
Unlimited product including apps integrations and more features
Mon-Fri support
$49Month
Get Started
John Doe
Product designer at Dribbble
I enjoy working with the theme and learn so much. You guys make the process fun and interesting. Good luck! 👍
John Doe
Product designer at Dribbble
I enjoy working with the theme and learn so much. You guys make the process fun and interesting. Good luck! 🔥